Our mission is to make Open Access affordable, fast, and easier for researchers and institutions.
---
Lifetime Memberships
We started memberships because it shouldn't cost thousands to publish Open Access. If you publish frequently then see how you can benefit from a membership.
APCs
Publishing can cost thousands in many comparable Open Access journals. Even subscription journals can charge thousands for figures.
PeerJ APC fees start at $895 and discounts provided for active reviewers.
Institutional plans
Save on open access publishing fees for your institution with PeerJ. When your researchers come to us they'll be able to utilize discounted pre-paid plans quickly through automatic verification or manual approval.
---
Supporting the community.

We're giving back.
Each year we support dozens of academic and community events - small, large, innovative or traditional. Find out more about the PeerJ Awards Program here
// Upcoming sponsorships and awards
EMBO Workshop: Visualising Biological Data (VIZBI)

- mar 2019

Future of Individualized (Genomic) Medicine

- mar 2019

Ohio Zebrafish Undergraduate Research Conference

- mar 2019

French Paleontological Association

- apr 2019

2nd International Conference on Holobionts

- may 2019
// Recent
International Biogeography Society

- jan 2019

Reef Futures 2018

- dec 2018

Exploring Human Host-Microbiome Interactions in Health and Disease

- dec 2018

BBCC Bioinformatics and Computational Biology in Campania

- nov 2018

Global Invertebrate Genomics Alliance

- oct 2018

Microbial Eco-Evolutionary Dynamics

- oct 2018
---
Tools for the community.
We've open sourced code.
We build open source tools helpful to both academics (e.g. Paper Now) and general software development professionals.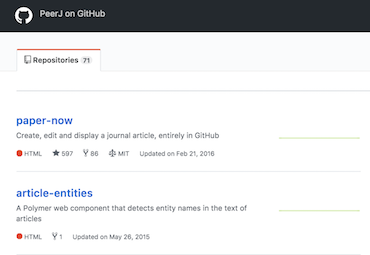 ---
Get involved.
Give a little time - get a lot back.
We need your help to make Open Access more affordable and easier for everyone. Volunteer to review with our reviewer matching service or spread the word in your department or community.
---